C-ROS is an integrative biotechnology platform developing ZeroWaste technologies for the future. C-ROS stands for C-ROS: Cash Return from ZeroWaste and Segregation of Trash. It will convert organic waste from food and agricultural industries, municipalities, communities and households into valuable biofuels and biochemicals. C-ROS is fully aligned with Thailand's policy on Bio-, Circular and Green (BCG) Economy.
C-ROS technology will aim to increase the value of organic waste – which is usually a problematic factor in recycling processes – to achieve economic value of around 50,000-100,000 baht per ton. Currently, we are developing the process to handle organic waste in excess of one ton per day.
With the use of C-ROS technology, we hope to bring about a paradigm shift in waste management in Thailand. Instead of spending money on organic waste removal and environmental cleanups, the use of C-ROS technology will allow ZeroWaste communities to earn money from managing and segregating waste.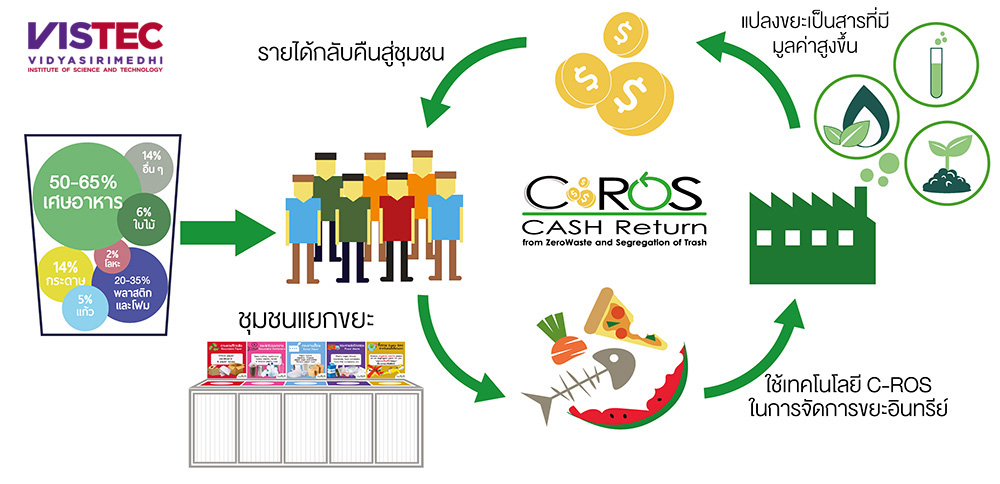 C-ROS is a multidisciplinary collaborative science and engineering project in which more than 20 researchers from four major institutions in Thailand (VISTEC, Burapha University, Mahidol University and Chulalongkorn University) have been working together. C-ROS was initiated in 2018 with the "Nan Zerowaste project", in which researchers from VISTEC and Burapha University, and a community in Nan, Thailand have been working together under support received from Kasikorn Bank and VISTEC.
The C-ROS researchers have been developing technologies based on cell, metabolic and process engineering to obtain enzymes, cell prototypes and engineering systems for bioconversion of organic wastes into biofuels and biochemicals. In 2019, C-ROS received support from Thailand Science, Research and Innovation (TSRI) and three major companies in Thailand (PTT, Kasikorn Bank and Bangkok Industrial Gas) to develop a pilot scale integrative waste bioconversion platform to convert 1,000 kg of organic waste per day into biogas, hydrogen, biofertilizer, bio-alkane and fatty alcohol. This technology will be readied for utilization by communities, organizations and private sector entities in Thailand that generate waste of 500-1,000 kg per day.